We believe our greatest strength is our people!
This is about you; your attitude, passion, and potential. Your journey starts with us, now.
FMI is committed to building diverse teams where people of all identities and backgrounds are welcome, included, and respected. We are actively recruiting any individual who lives by our corporate values of Heart, Integrity and Drive. We strongly encourage women, gender diverse people, and minority candidates to apply!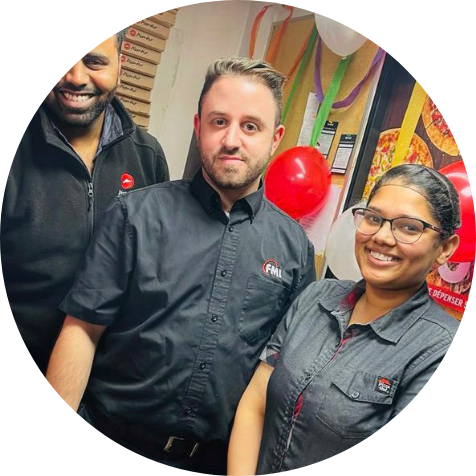 We actively seek both local talent and candidates looking for work in North America. We pride ourselves in attracting and developing our talented team members and leaders – we're successful when our employees grow as we grow. If willing to relocate, we believe the opportunities are endless with FMI Group.
As part of our
family we offer you
- Affordable Health and Dental Benefits
- Competitive compensations and advancement opportunities
- RRSP available for salaried managers
- Workperks discounts for various venders across Canada and US for all employees
- Bursary program
- Employee Discounts
- Refer a Friend Program
- Development Incentive Program
- Fun work atmosphere!
- Annual merit increases
Heart
We collaborate because success will only happen as a team. The growth of our people is the key to our success.
Integrity
We are true to our word and hold ourselves accountable to any commitment we make. We believe how we get there matters.
Drive
We know that our business is a marathon with no finish line. We pride ourselves in being best in class in all that we do.
TESTIMONIALS
FROM OUR TEAM MEMBERS
Emanuel - Sturgeon Falls, ON
As one of the members of FMI I could say over the past 5 years I've enjoyed learning and as well as teaching others in the branch. The chicken that we serve in Sturgeon Falls KFC is coming from the joy of our hearts to those who love KFC just as much as we do. Serving the community is key in my mind, it's a pleasure to be a part of this company and working with those alongside it.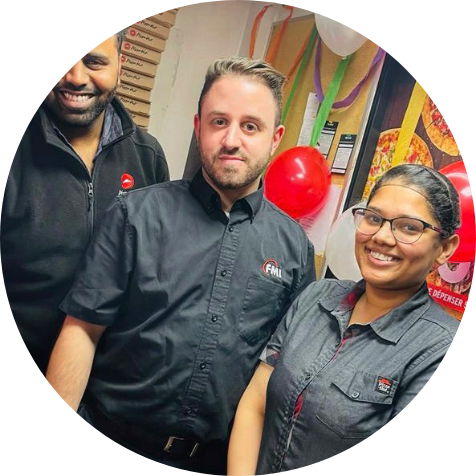 Adam Shemie
"Working for a company like FMI has been great Not only is it a great environment, but it is also a company that supports growth! I am very happy to be a part of the FMI team and look forward to continuing to grow within the company and the brands!"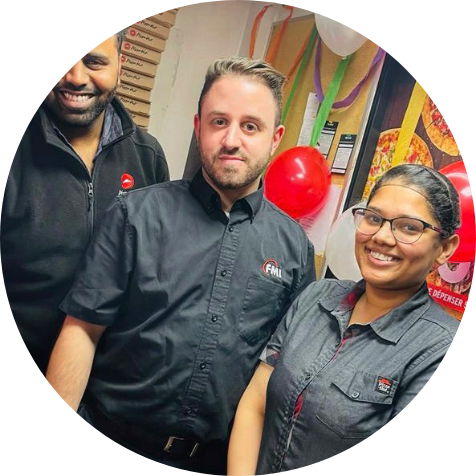 Bryan Balogh
"I started my journey working for Pizza Hut during my studies as they were very
accommodating to my work/schooling schedule. Once I finished my studies I
found it hard to leave this fast paced environment. With that in mind I decided to
dive into my career with FMI as I saw there were many growth opportunities not
only for my career, but my self growth as a leader. I took advantage of the
opportunities that were presented to me which landed me the position I have
today."
Jose & Steve -North Bay, ON
"Working at KFC has also allowed us to collaborate with such an amazing team of different personalities, This is truly a second family." "KFC has given us an opportunity to contribute to a fast moving industry. This company has allowed us to grow both personally and professionally while acquiring new skills."
Elijah Day - KFC Central
"My first experience with KFC was part time after school in the kitchen as a cook. I worked that job for just over 3 months, then was cross trained and promoted to a part time Shift Manager in addition to attending school full time. Upon graduating from High School, I was offered the position of Restaurant General Manager at KFC.
I wanted the opportunity to make a change, and FMI Atlantic rewarded me with it. You're not just a number at FMI, but always a valued member of the Team. It's reassuring to know that I can always go to my Manager and colleagues for help and to know that they have my back and are willing to lend a hand with whatever I need. I feel at home here thanks to FMI and their work culture."